Main content starts here, tab to start navigating
Visit Us
Slide 1 of 5
Slide 2 of 5
Slide 3 of 5
Slide 4 of 5
Slide 5 of 5
Hours & Location
612 East Germann Road,
Gilbert, AZ 85297
480-867-1585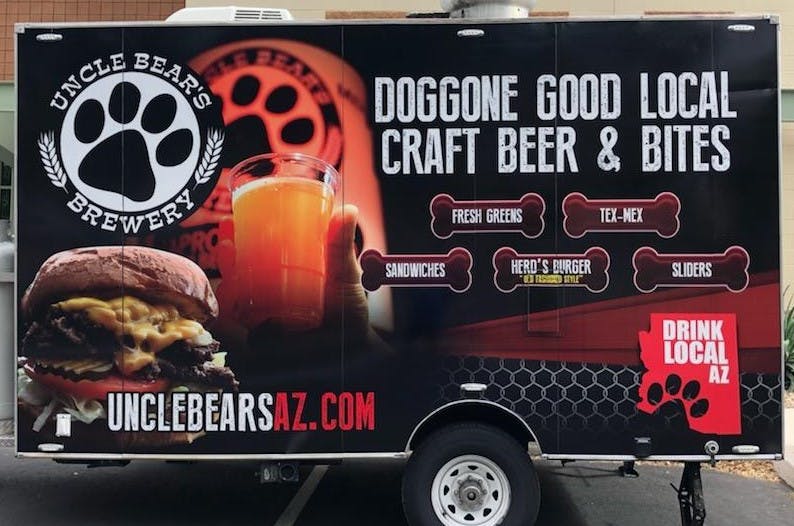 TAPROOM HOURS
Sunday: 11am-8pm
Monday: 2pm-9pm
Tuesday: Closed
Wednesday: 2pm-9pm
Thursday: 2pm-9pm
Friday: 2pm-10pm
Saturday: 12pm-10pm
HAPPY HOUR
All Day Monday
Wed-Fri: 2pm-5pm
Thank you for your interest in the new Brewery and Taproom location!
Our facility comes with an array of experiences, from brewery tours to live events.
PINTS
FLIGHTS
TASTINGS
BREWERY TOURS
CANS, CASES
GROWLERS, KEGS
SPECIAL EVENTS
NOW OPEN!
Uncle Bear's Food Truck
On site at our Brewery and Taproom, we will be serving up Bear's favorite dishes, hot and fresh, right to your table!
Food Truck Hours:
Monday 4pm - 9pm
Tuesday Closed
Wednesday & Thursday 4pm - 8pm
Friday 3pm - 9pm
Saturday 12pm - 9pm
Sunday 12pm - 7pm
Visit our EVENT PAGE for more information about
upcoming Live Music and Events in the Yard!